Lifestyle interventions are part of behavioural therapy. Reducing caffeine intake is one of the advises described in several guidelines. As a pelvic physiotherapist I have noticed mixed results of caffeine reduction in my patients. So when I came across this scoping review on 'what we really know about the role of caffeine on lower urinary tract symptoms' I hoped that this could help me in explaining why the advice to stop drinking caffeine does not have a positive effect for all patients. The scoping review I will discuss today focusses on over active bladder storage symptoms: urgency, frequency, urgency urinary incontinence and nocturia.
A is a type of review that includes all types of research unlike a systematic review which includes preferably only randomized controlled trials.
The results are based on 26 studies (14 intervention and 12 observational studies (different designs within the intervention and observational studies). There were various differences between studies like: population (male/female), symptoms and use of validated instruments to measure LUTS, measurement of caffeine intake, and also the research effect of caffeine reduction alone of part of an intervention and measurement instruments.
Results
In the table below you can read the main results.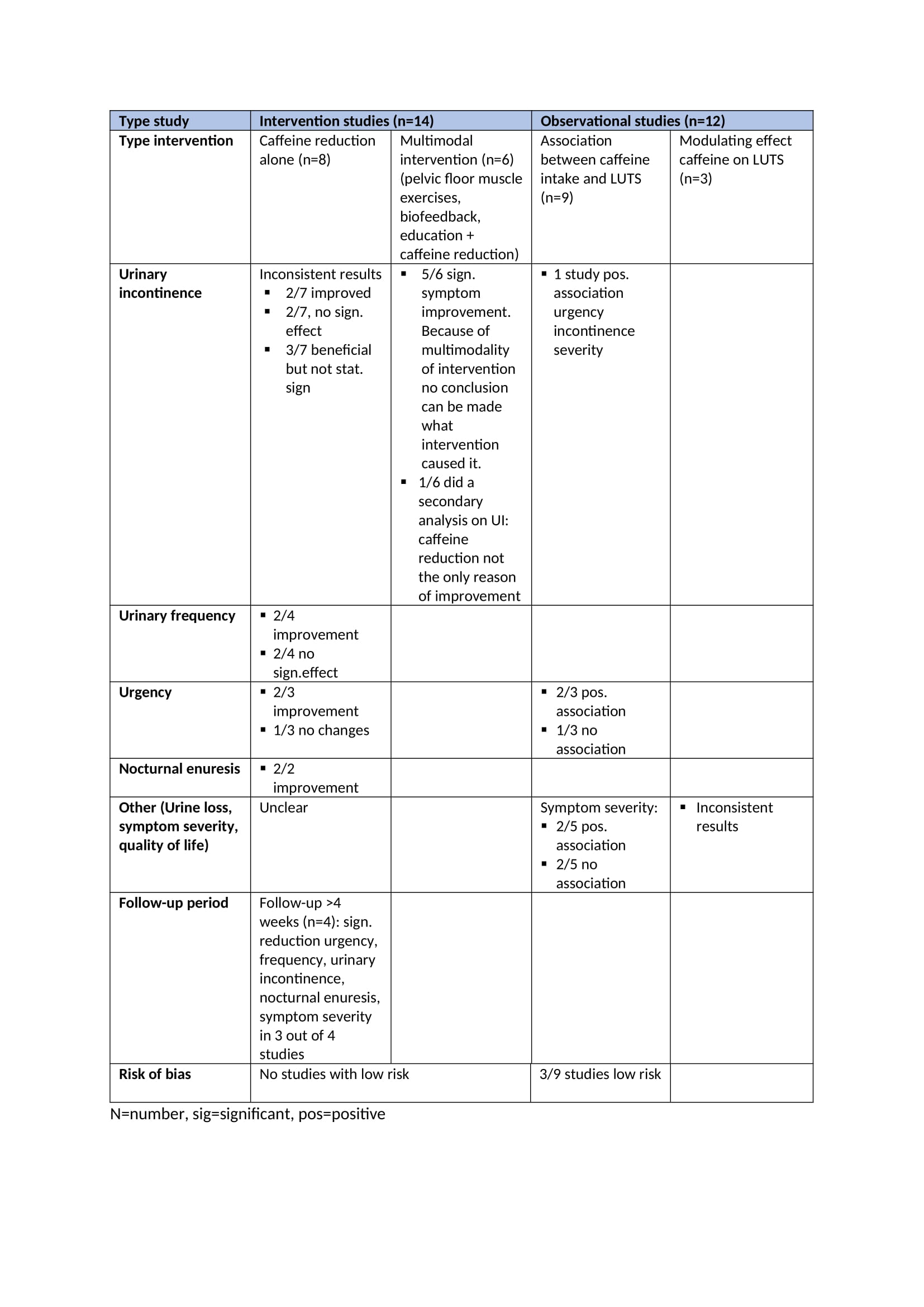 Conclusion of authors
The main lower urinary tract symptoms that seem to be influenced by caffeine are urgency (level of evidence 2, Grade B recommendation) and nocturnal enuresis (level of evidence 4, grade C recommendation).  But we should keep in mind that the research on nocturnal enuresis was on a geriatric population. So generalization is more difficult. The effect on urgency might be explained by the properties of caffeine (figure 1). There is still a lot that needs to be research like; timing of intake and dosing of caffeine.
My personal opinion
When advising patients with lower urinary tract symptoms and specifically the storage/ overactive bladder symptoms we have to keep in mind that the most likely effect of caffeine is on the urgency symptom.
As a caffeine lover myself I look forward to well-designed research on the effect of caffeine on lower urinary tract symptoms. Like the authors I have questions regarding for instance; influence of amount of caffeine intake (some types of coffee have higher caffeine percentage than others). In the original article there is a whole page with suggestions that can help research planning.
Reference:
Le Berre M, Presse N, Morin M, Larouche M, Campeau L, Hu YX, Reid I, Dumoulin C. What do we really know about the role of caffeine on urinary tract symptoms? A scoping review on caffeine consumption and lower urinary tract symptoms in adults. Neurourol Urodyn. 2020 Jun;39(5):1217-1233. doi: 10.1002/nau.24344. Epub 2020 Apr 9.